The streets of downtown Brentwood were filled with a few thousand people and an air of jubilation last Saturday at the city's annual Hometown Halloween festival. And everyone seemed to agree — it was good to be back.
Emily Lechitona walked with her husband, Vincent, and 3-year-old son, JuJu, between the dozens of booths that lined First and Oak streets. JuJu was dressed as a Ghostbuster and proudly showed off both his costume and big smile.
Lechitona said they had just moved to the area from San Francisco and had never been to the festival. The family celebrated Halloween at home in 2020 and were excited to participate in the festivities this year, she said.
"It's a little bit more special, just because I feel like all of us have just been through so much last year that like being out and about feels semi-normal," Lechitona said. "It's good."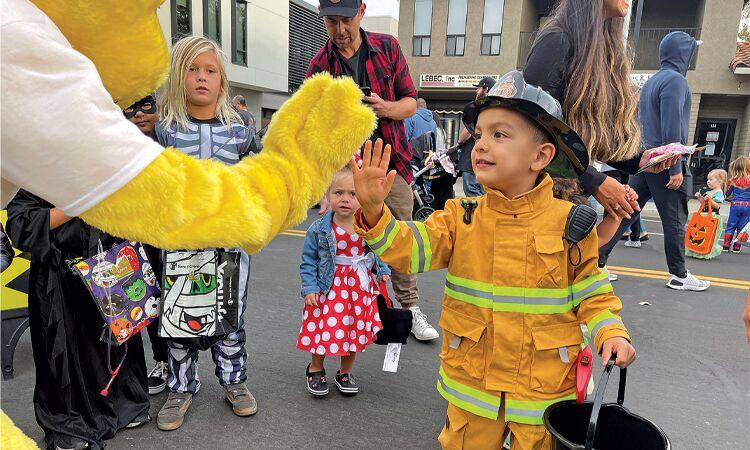 Hometown Halloween, which is hosted by the Brentwood Chamber of Commerce, was forced to adopt a drive-through format in 2020 due to COVID-19 restrictions. Event chair Adam Martinez said he'd been adamant about wanting to continue the tradition in any way possible, especially during a year that had been so difficult for everyone.
"So when they were trying to cancel Halloween last year, I said 'Not on my watch,'" Martinez said. "The kids need something."
But the festival came back with a bang Saturday, as most COVID-19 restrictions have since been lifted. The streets were once again buzzing with children — and adults — decked out in their Halloween finest trick-or-treating, games, music and the sound of corn popping. The night was capped off with a showing of the cult classic "Hocus Pocus" on a large screen at Brentwood City Park.
"It was like it used to be back in the day," Martinez said.
"Everybody has been itching to get back to normal," Martinez added. "This year, we have no restrictions, so people came and showed out. I love it."
Tanya Owens, co-owner of Prestige Cleaning Services, said the night had been nonstop. They had spent several hundred dollars on candy, she said, but laughed that it still might not be enough with more than an hour of the festival left.
"It has been crazy," Owens said.
Lindsay Mandjek's 3-year-old son Elliott ran circles around her in his Spiderman costume, showing off his spider moves. Her two other children — Noah, 10, and Audrey, 9 — were also close by. Mandjek, who works in the area as a real estate agent, was happy to see the streets filled with people once again.
"It's just been dead and we've been missing seeing everyone out and about," Mandjek said. "So it's been really fun."