UPDATE (Feb. 21, 4:45 p.m.): The suspect in a drive-by shooting in Antioch Saturday night that injured a firefighter and a paramedic has been charged with the murder of Discovery Bay man.
The suspect, identified as 26-year-old Darryon Williams of Stockton, is accused of killing 64-year-old Michael Iliff of Discovery Bay.
After Williams was taken into custody Saturday night, Feb. 20, Contra Costa County Sheriff's Office deputies were dispatched by investigators to a residence on the 2100 block of Newport Court for a welfare check. Deputies arrived and found the door to the home ajar. Entering the residence, they found Iliff dead of apparent gunshot wounds.
Investigators later identified Williams as the suspect in the murder of Iliff. After being interviewed by detectives, Williams was booked into the Martinez Detention Facility on one count of murder and ten counts of attempted murder. He is being held in lieu of $11 million bail.
At this point, the connection between Ifill and Williams has not been disclosed.
Sheriff's Office detectives are trying to locate Williams' four-year-old son and the mother of the child, 31-year-old Kimberly Meeks of Discovery Bay. She has links to the Stockton/Sacramento area. Detectives have concerns about their safety. They are traveling in a dark colored Audi SUV with California license plate 8UKN742.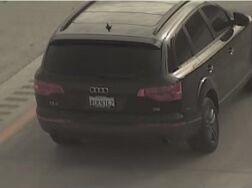 The investigation is ongoing. Anyone with information on this homicide or the whereabouts of Meeks and her son is asked to contact the Sheriff's Office Investigation Division through the Sheriff's Office dispatch at (925) 646-2441 or at (925) 313-2600. Tips can be emailed to  tips@so.cccounty.us. Call (866) 846-3592 to leave an anonymous voice message.
UPDATE (Feb. 21, 2:30 p.m.): A spokesperson from the Brentwood Police Department (BPD) said that the suspect in an armed robbery that occurred Saturday night in Brentwood was connected to the drive-by shooting in Antioch that injured a firefighter and a paramedic. 
A Black man estimated to be in his 20s entered a Quik Stop around 8:30 p.m., displayed a firearm and demanded cash, said BPD Lt. Walter O'Grodnick. The suspect fled the scene with the cash and some merchandise in a silver SUV. The suspect in the Antioch shooting was reported to have been driving a silver SUV.
"Our agency confirmed the suspect in our robbery is connected to the ongoing investigations in Antioch and Discovery Bay," said O'Grodnick. "No additional information is being released to preserve the integrity of this complex multi-agency investigation."
Jimmy Lee, public information officer with the Contra Costa County Office of the Sheriff, said a press release regarding an incident in Discovery Bay and its possible connection to the Antioch shooting suspect is expected later today.
A suspect was arrested after a firefighter and a paramedic were injured in a drive-by shooting in Antioch, Saturday night, Feb. 20.
The Contra Costa County Fire Protection District (ConFire) firefighters and American Medical Response (AMR) paramedics responded to the parking lot of a Panda Express on the 1900 block of Auto Center Drive at 8:53 p.m. for a report of an individual suffering from an abdominal injury, said ConFire Fire Prevention Capt. Joseph Ottolini.
While treating the injured man, the suspect drove by the scene at 9:08 p.m. in a silver SUV and fired multiple rounds. According to a press release issued by the Antioch Police Department (APD), the suspect then turned around, drove back by the scene and fired a second time.
The firefighter was struck in the foot and the paramedic was hit in the leg. An ambulance and police car were also struck by gunfire. The injuries suffered by the pair were not life threatening, Ottolini said. A ConFire social media post stated that both were in stable condition after being transported to a local hospital for treatment of their wounds.
The suspect vehicle fled west on Highway 4, and APD officers gave chase. They were joined by units from the California Highway Patrol (CHP) and a helicopter from the Contra Costa County Office of the Sheriff. The pursuit ended in Richmond after the suspect, a resident of Stockton, crashed into a parked car. The unnamed suspect was taken into custody by the Richmond police and CHP officers. A firearm was collected at the scene.
"Tonight's senseless shootings are a vivid reminder of the very real dangers our first responders face, often side-by-side with our law enforcement partners, as they work to save lives across our communities," said Lewis T. Broschard III, ConFire fire chief.. "We are grateful for the public outpouring of support for our wounded firefighter and AMR paramedic and for the work of law enforcement across the Bay Area to bring the perpetrator or perpetrators to justice."
Also according to Ottolini, it is unknown if the shooting is connected to the injured person that initially drew responders to the location.
"As representatives of our firefighters, and in support of the police and EMS personnel we respond with on a daily basis, we are grateful to report both first responders injured in tonight's shooting incident are expected to make full recoveries," said Vince Wells, president, United Professional Firefighters of Contra Costa County. "I would like to thank the members of the community of Antioch and beyond for your words of concern and support regarding those injured in tonight's incident. We expect to learn more as the investigation uncovers more details regarding this incident."
Antioch Police Department detectives with the Violent Crimes and Special Operations Units responded to the scene, along with crime scene investigators, and took over the investigation. The investigation is ongoing, and evidence is being collected and evaluated.