REGIONAL East County candidates have begun the process of pulling papers to run for various seats in the Nov. 3, 2020 General Election. The nomination period is open through Aug. 7. If an incumbent does not file by 5 p.m. on Aug. 7, the deadline will then extend for non-incumbents only. That extension will be until Aug. 12, at 6 p.m.
Antioch's City Council and school district along with the Brentwood City Council and Oakley school district hold district elections, which means that candidates must reside in the district they are running for. Only the voters who live within each district can elect a candidate from that district.
The following is a current list of candidates who have pulled papers as of press time.
Antioch City Council: Four council seats available and mayor
Mayor: Sean Wright (Incumbent), Julio Mendez, Rakesh Kumar Christian, Kenneth Turnage II, Monica Wilson, Wade Harper, Gabriel Makinano and Elizabeth Householder
Council District 1: Joyann Motts,Manuel Soliz, Fernando Navarrete, La Donna Norman and Tamisha Walker
Council District 2: Tony Tiscareno and Michael Barbanica
Council District 3: Lori Ogorchock, Lamar Thorpe, Wayne Steffen, Antwon Webster and Marie Arce
Council District 4: Alex Astorga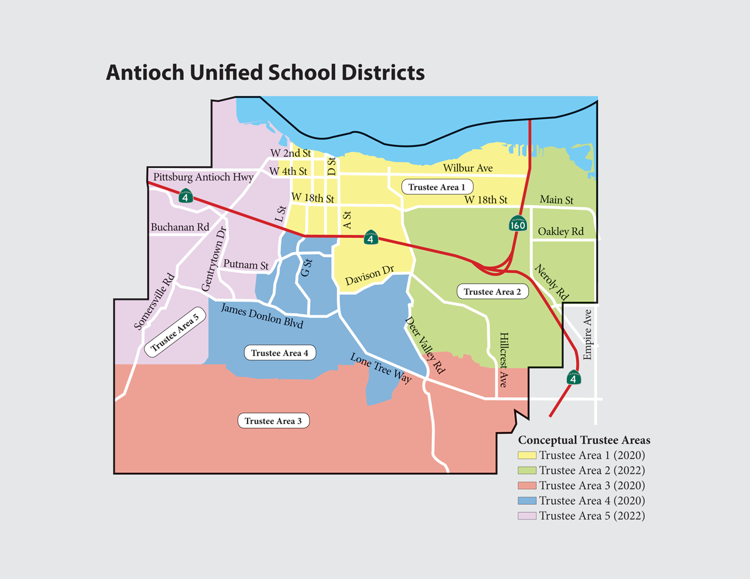 Antioch Unified School District: Three seats available
Trustee Area 1: Antonio Hernandez
Trustee Area 3: Crystal Sawyer-White (Incumbent)
Trustee Area 4: Gary Hack (Incumbent)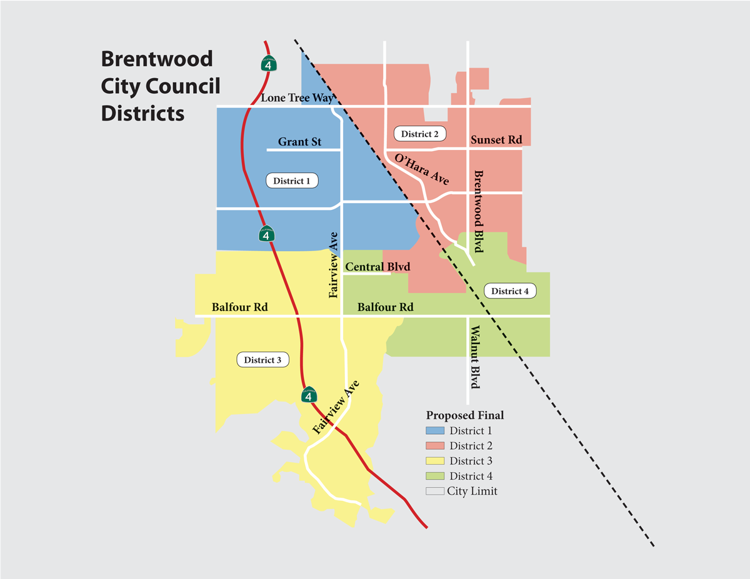 Brentwood City Council: Two council seats available and mayor
Joel R. Bryant, Brian Carleton, Mary Nunn, Ryan Raimondi and Karen Rarey
District 1: Faye Maloney, Jovita Mendoza, Michael Moore, Claudette Staton (Incumbent) and Brian Swisher 
District 3: Indrani Golden and Victoria Sandberg
Brentwood Union Elementary School District: Two seats available
Blythe Lind (Incumbent), Thuy Daojensen, Stephanie Williams-Rogers and Carlos Sanabria (Incumbent)
Byron Union School District: Two seats available
No one has pulled papers yet.
Discovery Bay Community Services District: Two seats available
Bill Mayer (Incumbent) and Bill Pease (Incumbent)
Liberty Union High School District: Two seats available
Yolanda Pena-Mendrek (Incumbent) and Ray Valverde (Incumbent)
Knightsen School District: Three seats available
Thomas E. Baldocci, Jr. (Incumbent)
Oakley City Council: Three seats available
Kevin Romick (Incumbent), Claire Alaura (Incumbent), Oleksii Chuiko, Michael Krieg (Incumbent), George Fuller, Conan Moats and Anissa Williams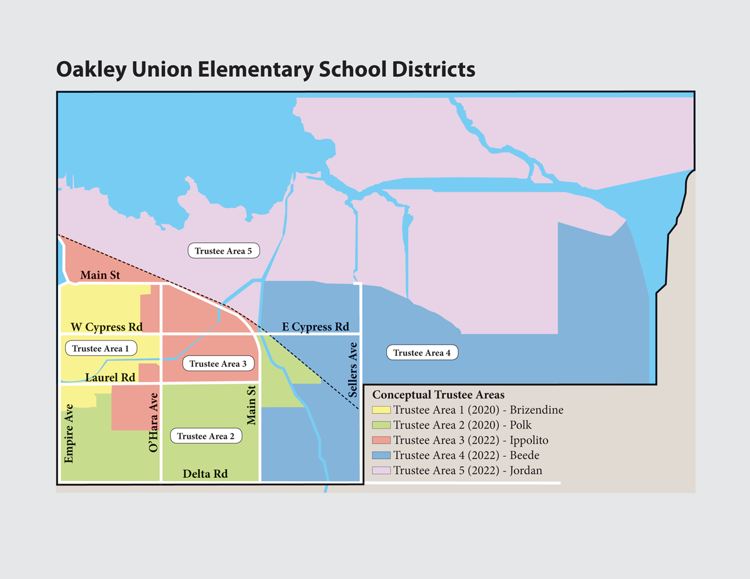 Oakley Union Elementary School District: Three seats available, one for Trustee Area 1, 2, and 5
Trustee Area 5: Richard Masadas