UPDATE (June 20 at 12:30 p.m.)
The California Highway Patrol is now calling the incident a "targeted shooting" which left one unidentified male hospitalized with a gunshot wound to the leg.
The victim was driving a black pickup truck eastbound on Highway 4 west of Lone Tree Way in Antioch around noon Friday when someone in a grey SUV, possibly a 90s model Mitsubishi, fired at the pickup approximately three times and fled the scene, CHP officials said in a press release Saturday morning. 
The pickup driver remained hospitalized Saturday morning. His condition has not been released. 
Detectives are continuing to investigate the incident.
Anyone with information about the shooting is asked to call the CHP Investigative Tipline at 707- 917-4491.
Brentwood police confirmed that a shooting took place on Highway 4 in East County Friday afternoon, June 19.
"There was a witness that was traveling in close proximity that confirmed the shooting occurred eastbound on Highway 4 just before Sand Creek Road," said Lt. Walter O'Grodnick of the Brentwood Police Department.
The victim suffered at least one gunshot wound, and then drove himself to the John Muir Medical Center at 2400 Balfour Road. No information about the victim or his condition has been made available. The victim was the sole occupant of the vehicle at the time of the shooting.
"When we got the call, we determined that the shooting occurred in CHP's jurisdiction," O'Grodnick said. "We notified CHP and their officers responded."
At 1:17 p.m., CHP closed the eastbound lanes of Highway 4 at Laurel Road. A social media post from the agency stated the closure was to allow an investigation of the shooting.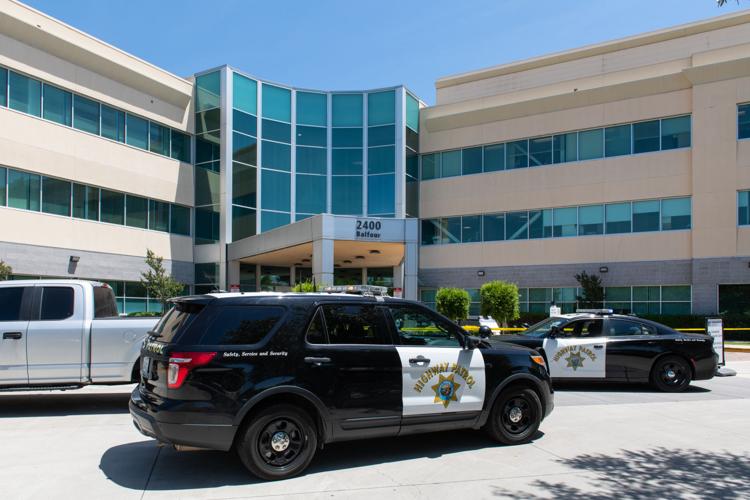 Police were also seen inspecting a black Toyota pickup in the entranceway at John Muir with what appeared to be a bullet hole in the rear window. O'Grodnick was unable to confirm its involvement in the incident because the investigation was assumed by CHP.
No further information has been provided so far. At this point it is unknown if the shooting was targeted or random, and no description of the vehicle involved has been provided. This story will be updated as more information becomes available.