Two Liberty High School superstars recently signed their letters of intent.
Football players Justice Jackson, a running back, and Peyton Borrelli, a defensive lineman and tight end, signed off to attend Eastern Washington University and Southern Utah University, respectively.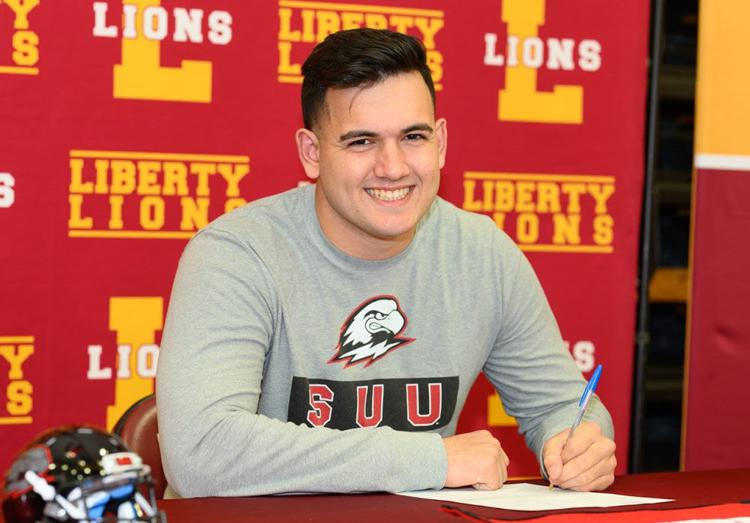 Jackson, considered a three-star recruit by 247sports.com, saw limited action in his only season for the Lions, but racked up 25 catches for 493 yards and six touchdowns in five games, which was good enough to earn a spot on the all-league first team. Prior to attending Liberty, Jackson also made a splash for the Berean Christian High School squad, rushing for 957 yards and 13 touchdowns in two seasons, according to Maxpreps.com. He also made seven catches for 81 yards, earning first-team all-league nod both seasons.
Eastern Washington head coach Aaron Best said in a release on the school's website the team expects Jackson to play running back.
"He's a long and taller running back and runs with a great profile," Best said in the release. "He has a nose for yards and a tool belt of options when he gets the ball and can make people miss. He's a grinder. He's a great student and comes from a great family. We're excited to get him onboard."
Borrelli, meanwhile, played both sides of the ball for the Lions in three seasons for the varsity squad.
On offense, he caught 11 catches for 157 yards and a touchdown, and on defense, collected 62 tackles and 16 sacks. He was an all-league first team defensive member his senior season and an all-league honorable mention member on defense his junior campaign.
Southern Utah head coach Demario Warren spoke glowingly of his recruiting class in comments on a school website.
"We are excited about adding these young men to our program," Warren said. "Our coaches did a fantastic job of researching and building relationships with our recruits. We continue to focus on building our football program with young men that have high values."